Sierra Quitiquit
Professional Skier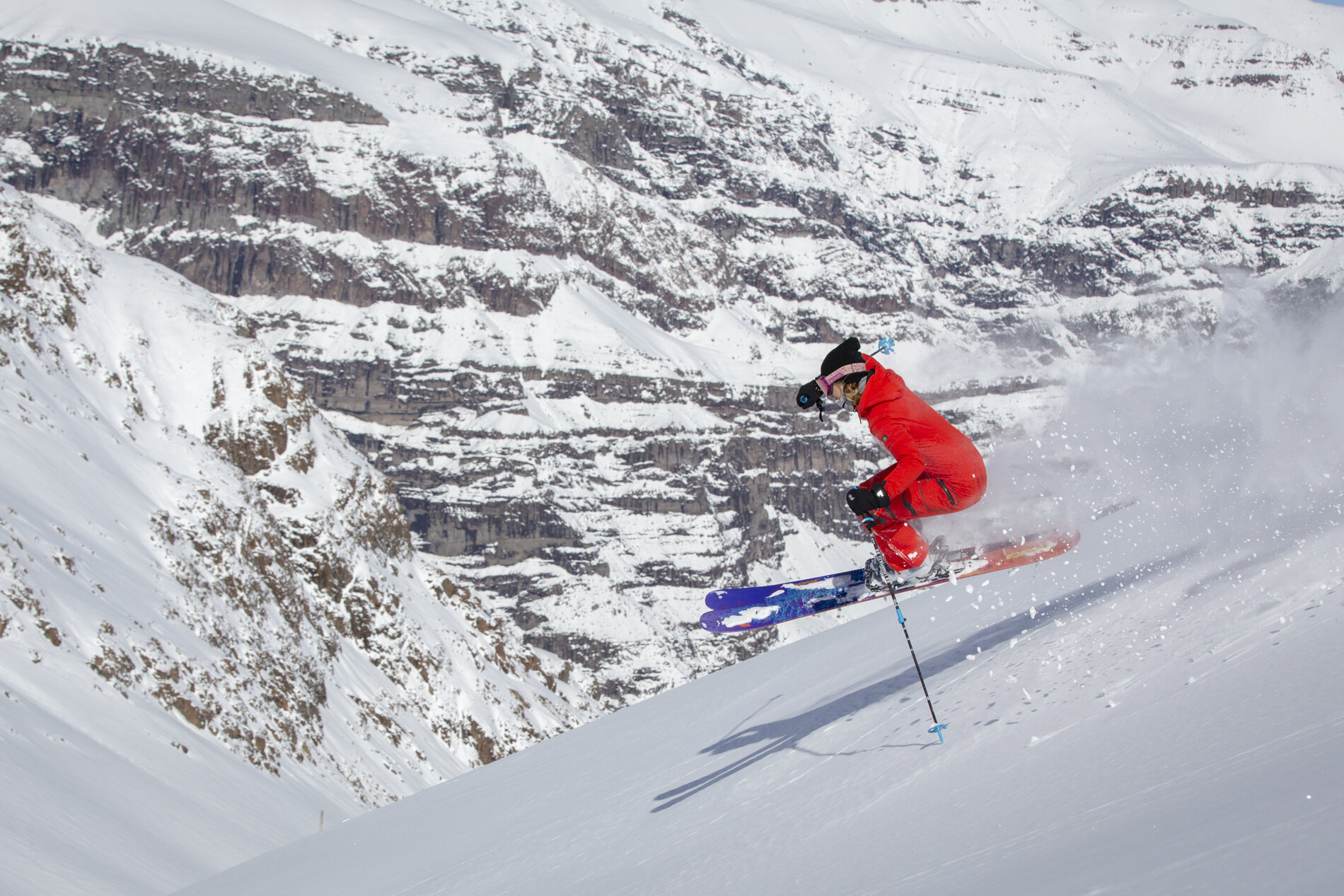 Sierra began skiing at the age of 2 and turned professional at 23. In her rookie year, she made a splash on the scene when she landed the closing segment of the ski film: Warren Miller's Ticket to Ride and starred in the award winning film Valhalla.
Background
Sierra was born into a freewheeling skiing family. She started chasing the snow at age two, living in a converted school bus with her parents and three brothers. "It was unique, for sure," she says. "Skiing was everything for us. We were always training, following races, thinking about skiing. It was our way of life. It really instilled a passion in us."
Sierra's father got his accreditation and coached Team Quitiquit. A junior Olympian, Sierra's days in racing bibs ended after an unfortunate encounter with snow gun shattered her femur, arm and ribs. Ever philosophical, Sierra says that, "ski racing provided me with a solid technical foundation."
At eighteen, Sierra eschewed conventional higher education to study massage therapy in Costa Rica. "I fell in love with surfing, there," she says. "The ocean is so grounding. It felt so wonderful to connect and play with nature. One day, I'd love to open a surfing school in Nicaragua."
When asked why she didn't transition to snowboarding, Sierra laughs. "I tried snowboarding once… when I was fourteen. But I can never get in enough skiing."
"
It's about pushing my limits. Staying focused. Breaking down barriers. Going fast. Stepping up to the challenge. Expressing myself.
/ Sierra quitiquit /
Experience
When asked how someone with so many interests defines herself, Sierra replies, "First and foremost, I'm a human being. My passion is skiing. I didn't have much as a kid. I was raised to work hard, to appreciate opportunities as they presented themselves and to be grateful."
How does she remain centered and focused through it all? "I'm a crazy health lady," Sierra laughs, "totally committed to nutrition and yoga. A healthy lifestyle allows me to keep going. I'm also passionate about yoga and its combination of spirituality and physicality."
Besides skiing and modelling careers, Sierra has taken up filmmaking or what she calls 'content production'. "I've co-directed and produced a web-based platform that tells my story. I love visual story telling. It's important to keep evolving, to keep things fresh and always be moving."
Dave Fonda, Nordica